The Poster and Its Creators will Be Featured at the Statehouse on March 19, 2020
Washington, N.J., March 5, 2020 – Members of The Arc of Warren County community will be traveling to Trenton on March 19, 2020 to be honored at the Statehouse for Disability Awareness Month for their winning entry in a statewide poster contest.
The New Jersey Self Advocacy Project, which is a program housed within The Arc of New Jersey, recently managed the Disabilities Awareness Month poster contest.  The contest theme was "Our Time to Shine." All New Jersey chapters of The Arc were encouraged to participate.  The Arc of Warren County's Self-Advocacy Group, which is advised by The Arc of Warren County's Training Coordinator, Carrine Buzzuto, took the lead in encouraging individuals who utilize the services at The Agency to participate in this initiative.  The Chapter received 13 entries.  Members of the Self-Advocacy Group voted on the submissions and Chapter administrators casted their votes in case of a tie.
The winning entry was submitted to The Arc of New Jersey and created by five individuals.  Carrine Buzzuto and Group Home Manager Linda Gunter provided support for this project.
The winning poster will be the centerpiece of the annual Developmental Disabilities Awareness Month Event at Goldfinch Square in the State House in Trenton later this month.  Legislators from all over the state will have the opportunity to learn about the contest, see the poster and meet the creators.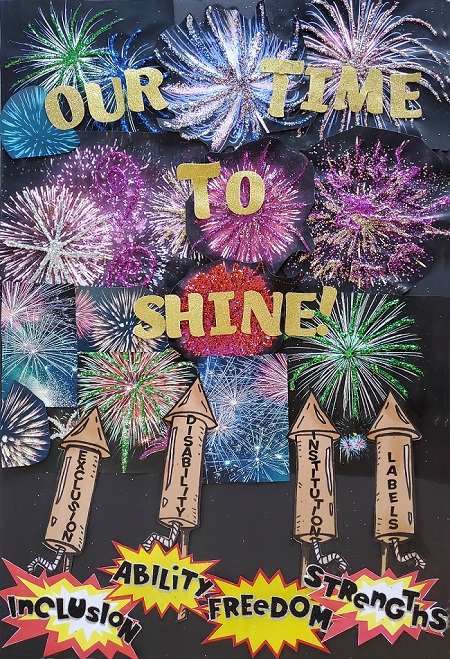 "This is a wonderful win for the entire Agency," says Buzzuto.  "This poster shows that we should promote include 'inclusion, freedom, strengths and ability' for individuals with DD, so we destroy old circumstances and ideas of 'institutions, exclusion, labels and disabilities.'  The result is beautiful and it is Our Time to Shine."
About The New Jersey Self Advocacy Project
The New Jersey Self Advocacy Project includes conducting trainings and leadership seminars for self-advocates and group advisors from across the state, supporting more than 150 self-advocacy groups, facilitating fundraising and public outreach initiatives, conducting presentations to community groups, schools and conference audiences, and educating state legislators regarding issues of importance to people with disabilities.
About The Arc of Warren County
The Arc is a national organization that serves individuals with developmental and intellectual disabilities and their family members since 1950.  The Arc of Warren County is one of 700 chapters of The Arc and serves more than 1,100 people annually for the past 66 years.  Programs include residential community living arrangements, community based supports, advocacy services, recreation and summer camp, Special Olympics, training, early intervention and a wide variety of additional social services.
###