The Arc of Warren County serves more than 1,100 people annually…
…including persons with intellectual and developmental disabilities and their family members. County-wide programs include community living arrangements (residential), family support, advocacy, recreation, summer camp, Special Olympics training, early intervention, and a wide variety of social services.
Announcements & Upcoming Events
The SummerFest Food Truck Festival with Donaldson Farms was an astounding success!
Thank you to Donaldson Farms, Mega-Bites and all of our sponsors (John Johnson Automotive Group; The House of the Good Shepherd; Fulton Bank; Mutual of America; Nisivoccia, LLP; Assured Partners Benefit Advisors/Walsh Benefits; Artic Foods, USA; Hunterdon Healthcare; Maguire-Scala Memorial Home; Panther Valley Pharmacy; Retro Fitness Mount Olive; and Valley Plumbing, Heating, Cooling & Lawn Sprinklers, LLC). Over 3000 people were in attendance. It was a fun-filled day with music, food and games. There was something to do for everybody!
Photos by Amanda Louraine Photography
Give a Tribute Gift From the Heart
Honor your loved one with a financial gift to The Arc of Warren County. Your donation can be made in honor, in memory, or for a special occasion. Simply specify the name of your loved one and the tribute message. Your gift, with your permission, will be listed with others who are providing a tribute to your loved one…
The Arc Radiothon Fundraiser Hits the $75,000 Mark
Results are Highest in 29-Year History
Washington, N.J., August 13, 2019 – The Arc of Warren County's 29th Annual Radiothon with WRNJ radio raised over $75,000 for the Washington-based organization. This is the highest amount of funds that have been raised for this annual event in a 29-year history. This year's co-chairs were Norman Worth, President and Managing Partner of WRNJ Radio and Jim Travis, Executive Manager for SASCO Otterstedt Insurance. This year's Radiothon honored longtime Arc Foundation Executive Director, Kevin Guyette, who passed away last fall.
On June, 5, 2019, WRNJ radio devoted the entire day to sharing stories about the impact of The Arc of Warren County's work with individuals with developmental and intellectual disabilities from families, consumers, community leaders and employees.
The Arc of Warren County's Sprint Triathlon
The Arc of Warren County's Sprint Triathlon took place on July 13, 2019 with 115 registered participants. This successful fundraiser was held at Mountain Lake in Liberty Township and included a ¼ mile swim, a 15 mile bike ride and a three mile run.
Early Intervention Department Helps the Fleming Family
Early Intervention Services from The Arc of Warren County Prove to Be Life-Changing for Local Family
When the Fleming triplets were born seven weeks early, they were referred to The Arc of Warren County's Early Intervention (EI) program while they were in NICU.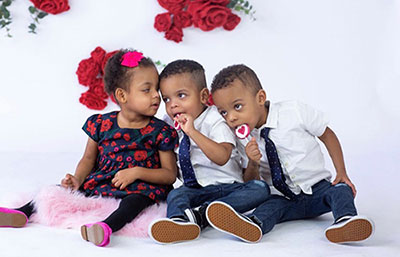 "The Early Intervention Staff are extremely professional and genuine and have the best intentions for the families that they help. This is not just a job for them. They go above and beyond."
– Yerkis Fleming, Early Intervention Parent.
"My family feels very comfortable knowing that I am receiving great care through The Arc of Warren County. They do not need to worry about my well-being. It helps that everyone is very friendly and helps each other out."
– Jill Young, Resident of The Arc of Warren County.
"After Aerilyn was born we were told to take her home to prepare for the worst. I had no one to talk to, was home alone caring for my child 24/7 and focusing on the gravity of my situation. Luckily, I was eventually referred to The Arc of Warren County's Early Intervention program. They helped pave the way to provide us with much needed services."
– Miriellys Colon, Past Recipient of Early Intervention Services.