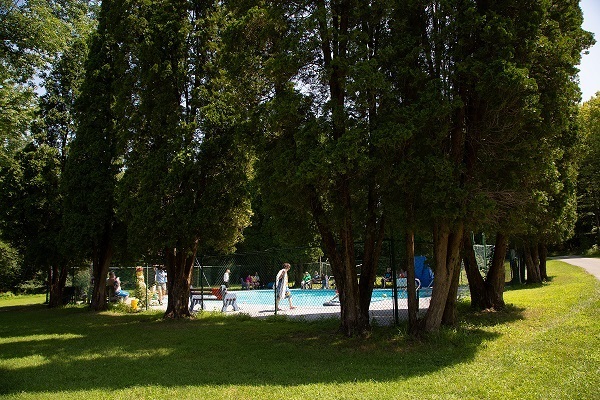 Washington, N.J., September 23, 2019 – The Arc of Warren County was recently awarded a grant from the Greenwich Autism Alliance for $3,780. These funds will be utilized to purchase a new pool cover for the organization's summer camp, which is located at Camp Warren.
Camp Warren is managed by the Recreation Department at The Arc of Warren County. Camp Warren has provided a quality summer camping experience on a scenic 35-acre site in Knowlton Township since 1962. Adult residential camps are available for two weeks during the summer and four weeks of day camp are provided for both adults and children. Activities include swimming, arts and crafts, music, sports, games, fishing and group activities. The focus of the camp supports the development of social, behavioral and interpersonal skills and daily living and physical skills.
Many Camp Warren Counselors have backgrounds in Special Education or related fields in Human Services. All counselors receive training on how to care for individuals with intellectual and developmental disabilities prior to the summer camp program.
"We are very grateful for the generosity of the Greenwich Autism Alliance," says Marci Gubich, Director of Recreation Services at The Arc of Warren County. "This grant will allow us to preserve the pool at Camp Warren for years to come. Many individuals with autism attend our summer camp and love the therapeutic benefits from utilizing the pool. This program is heavily dependent on donations and this opportunity will make a strong and lasting positive financial impact."
"Greenwich Autism Alliance Foundation is thrilled to have the opportunity to help Camp Warren to continue to provide joy to individuals with special needs," says Kelly Milazzo, Greenwich Autism Alliance Foundation President. 
To learn more about Camp Warren or how to help support this program, please visit arcwarren.org or call (908) 689-7525.
About the Greenwich Autism Alliance Foundation
The mission of the Greenwich Autism Alliance foundation is to promote local autism awareness & acceptance and grants to support teachers & families of children with autism. The Greenwich Autism Alliance grants 100% of net fundraising to schools, agencies, professionals and families who provide support & services for individuals with autism.  For more information about Greenwich Alliance Foundation, visit www.greenwichautismalliance.org or find them on Facebook under Greenwich Autism Alliance (GAA).
About The Arc of Warren County
The Arc is a national organization that serves individuals with developmental and intellectual disabilities and their family members since 1950.  The Arc of Warren County is one of 700 chapters of The Arc and serves more than 1,100 people annually for the past 65 years.  Programs include residential group homes and supervised apartments, day services, community based supports, advocacy services, recreation and summer camp, Special Olympics training, early intervention and a wide variety of additional social services.
###