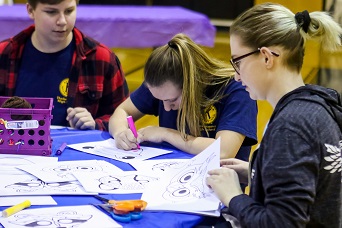 Washington, N.J., January 13, 2020 – The Hackettstown High School's Key Club will be holding their Annual Mini-Carnival to benefit The Arc of Warren County from 1 to 4 p.m. on February 23, 2020 in the new gym at the back of the High School (located at 599 Warren Street in Hackettstown).
This year's theme, "Reach for the Stars," will focus on fun in outer space and is designed for families with elementary school aged children. Activities will include a bounce house that is sponsored by The House of the Good Shepherd, an inflatable slide, music and announcements by WRNJ and the WRNJ Birthday Wheel, crafts, games and more! The Kiwanis Club will sell refreshments for lunch outside of the gym.
"The members of The Arc of Warren County community and myself are thankful for the dedication that the Hackettstown High School's Key Club has had for our organization for more than 20 years," says John Whitehead, CEO of The Arc of Warren County. "This event proves to be a fun, inexpensive day for families while also supporting the individuals who receive services from the Agency."
Admission is $2 for children ages 3 and older and activity tickets will be sold at 50 cents per game. Children must be accompanied by an adult.
For more information about The Arc of Warren County and the Mini-Carnival, please call (908) 223-0884.
About The Arc of Warren County
The Arc is a national organization that serves individuals with developmental and intellectual disabilities and their family members since 1950. The Arc of Warren County is one of 700 chapters of The Arc and serves more than 1,100 people annually for the past 65 years. Programs include residential community living arrangements, community based supports, advocacy services, recreation and summer camp, Special Olympics, training, early intervention and a wide variety of additional social services.
About The Key Club
Key Club is part of the Kiwanis International family. It is the largest and oldest service program for high school students. Key Club works to build leadership and character in high school students and teaches them to work together to serve the community. It is a student run organization with local officers who are elected by Key Club members within their schools and Board Officers at District and International Conventions.
###