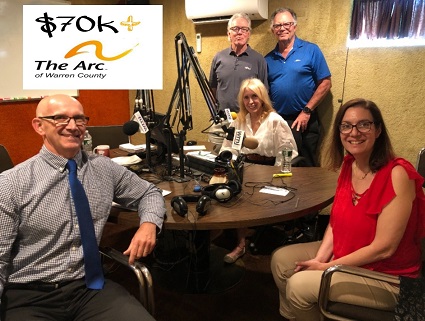 Washington, N.J., July 26, 2022 – The 32nd Arc of Warren County's Radiothon was an astounding success. On June 8, 2022, WRNJ Radio dedicated an entire day of programming focused on the benefits of The Arc of Warren County services and the positive impact that the Agency has on the individuals and families that are served.
The goal for this year was to raise $68,000 and to date close to slightly over $78,000 has been committed. The Arc of Warren County is keeping this project active.  People can still donate for this initiative until August 17, 2022. Funds raised support The Arc Foundation. Donations can be made online at arcwarren.org or checks can be made to The Arc Foundation, 319 West Washington Avenue, Washington, NJ 07882.
The Arc Foundation was established in 1998 to provide a continuum of funding to help assure the financial security of The Arc of Warren County's programs for people with intellectual and developmental disabilities. Radiothon supports many programs, such as Camp Warren, which runs five weeks of camp in beautiful Knowlton Township during the summer.
"The support from the community over the past 32 years has been so instrumental to the success of this Agency," says John Whitehead, CEO of The Arc of Warren County. "It has been a tremendous opportunity to be able to tell the Agency story each year from the perspective of so many people whose lives have benefited from this organization."
A special thank you to co-chairs Norman Worth of WRNJ and Jim Travis of SASCO Otterstedt Insurance. The 2023 Arc of Warren County Radiothon with WRNJ will take place on June 8, 2023.
"It has been wonderful working with Norman and Jim once again," says Annamaria Lalevee, Chief Development and Communication Officer at The Arc of Warren County. "Their commitment to this organization is so appreciated. I would like to see if we can make the $80,000 mark before August 17. This would be the highest amount raised to date. Please also consider participating in future Arc of Warren County events, such as our Golf Classic at Hawk Pointe Golf Club on September 12, 2022."
It is always the goal of The Arc Foundation to collaborate with other local organizations. Please consider reaching out to Annamaria Lalevee at alalevee@arcwarren.org or (908) 223-0884 to connect to discuss possibilities.
The Arc is a national organization that serves individuals with developmental and intellectual disabilities and their family members since 1950.  The Arc of Warren is one of 700 chapters of The Arc and serves more than 1,100 people annually for the past 68 years.  Programs include residential group homes and supervised apartments, day services, community-based supports, advocacy services, recreation and summer camp, Special Olympics training, early intervention and a wide variety of additional social services.
###