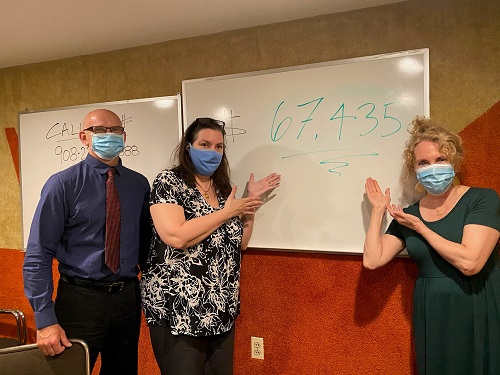 Washington, N.J., July 22, 2020 – The Arc of Warren County's 30th Annual Radiothon with WRNJ Radio surpassed its goal of $66,000 thanks to the commitment of co-chairs Norman Worth, President and Managing Partner of WRNJ and Jim Travis of SASCO Otterstedt Insurance, and the generosity of its longstanding donors and many new supporters. To date this event has raised over $68,500.
The importance of continuing the Radiothon tradition this year despite the global climate of uncertainty was essential as The Arc of Warren County is still responsible for providing services to consumers and residents who have intellectual and developmental disabilities. Children enrolled in the Early Intervention program still receive services virtually in order for them to achieve their best developmental outcomes. The residents in our Community Living Arrangement programs have continued to receive quality care 24 hours a day, seven days a week. Essential services are provided to many people in our community on an ongoing basis.
"Everyone here at The Arc of Warren County is so thankful for the help that we received from so many people throughout this project this year," says John Whitehead. "I personally want to thank our donors, sponsors, co-chairs, radio co-hosts, WRNJ staff and members of the Radiothon team who helped make this possible. It was a collaborative effort and we would not have been able to generate these results without the generosity of many people."
On July 17, 2020, WRNJ Radio devoted the entire day to sharing stories about the impact of The Arc of Warren County's work with individuals with developmental and intellectual disabilities. Individuals who were interviewed included Arc employees, families, consumers and community leaders.
About The Arc and The Arc of Warren County
The Arc is a national organization that serves individuals with developmental and intellectual disabilities and their family members since 1950. The Arc of Warren County is one of 700 chapters of The Arc and serves more than 1,100 people annually for the past 66 years. Programs include residential group homes and supervised apartments, day services, community-based supports, advocacy services, recreation and summer camp, Special Olympics training, early intervention and a wide variety of additional social services.
About WRNJ Radio
WRNJ (104.7, 92.7, 105.7 FM and 1510 AM) is known as "Northwest Jersey's Own" and has been instrumental in helping raise over $1.5 million for the Arc of Warren in the course of 30 Radiothons since 1990. The station's format features strong local news content augmented by the ABC Radio News Network. WRNJ is well known for its community involvement with strong personalities and features a music blend that combines "Today's Hits & Yesterday's Favorites." WRNJ has been broadcasting locally since 1976 and is owned by Norman Worth and Larry Tighe.